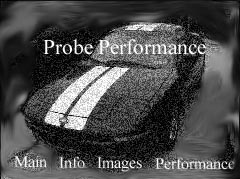 This performance page includes information on the overall performance of a probe with: opinions, a drag video, and drag times


---
Click to download clip



This ford probe completed the
1/4 mile in 13.9 seconds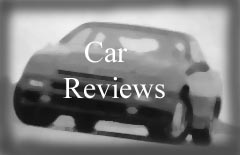 By Jim Mateja
Chicago Tribune
December 25, 1994
Thank goodness that reason and sanity won out and Ford didn't give in to those who had planned to replace the venerable Mustang with the Mazda-designed Probe sport coupe. The Probe has grown old since it was unveiled in the 1989 model year. It may have raised a few eyebrows in 1989, but the lids have grown weary. It didn't help that early design exercises and concepts of what was to become the Probe were stunning and expectations were sky high for a mind-boggling hunk of sheet metal. The production model was a conservative compromise.
shan60
My Probe currently has almost 130,000 miles on it and is still going strong. I have had to do my share of maintenance, but I am careful to do such. I get regular tune ups and oil changes and keep an eye on things in case a problem does arise. So far, I've been lucky. I have replaced the muffler, assorted belts and hoses, and brake pads in the 8 years I've had this car. It has been reliable and safe for me and my family.
DoubleCoog I purchased my 1996 Ford Probe four years and 60,000 miles ago. In that time I've never experienced a problem outside the scope of normal maintenance. Although I tend to be hard on a car (I blew out an engine & turbo charger on the first new vehicle I ever owned within the first year), my Probe has yet to disappoint me.
These drag times are from Jerry's '93 Probe GT page, CLICK to see more times
| | | | | | | |
| --- | --- | --- | --- | --- | --- | --- |
| Date | Car | 60' | 330' | 1/8@mpg | 1000' | 1/4@mpg |
| 5/31/99 | Ford Probe | 2.19 | 6.28 | 9.6@71.46 | 12.74 | 15.10@90.93 |
| 5/31/99 | Ford Probe | 2.25 | 6.30 | 9.7@71.79 | 12.63 | 15.21@91.09 |
| 5/31/99 | Ford Probe | 2.22 | 6.30 | 9.7@71.79 | 12.63 | 15.11@91.11 |
Main |Info | Images